Moreton Bay Day Sail - Sunday 19th January 2020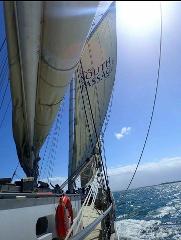 Duration: 6 Hours (approx.)
Location: Manly, QLD
Sail the magnificent waters of Moreton Bay on a 100ft gaff rigged schooner. This is a modern boat built and operated along traditional lines. You can do as much or as little work as you like. Either jump in and haul on ropes to hoist the sails, grab the wheel and - with the skipper's permission and supervision - guide the big ship around the Bay, or sit back, enjoy a drink and watch the world sail by.
DEPARTS FROM: William Gunn Jetty, Wyvernleigh Close, Manly
DEPARTURE TIME: 10am
RETURNING: 4pm
All you need to bring is some sun protection, a picnic lunch and refreshments.
No glass please and no smoking.